What's DSA
Aiming for Creation of Spatial Communication Design
Spatial design is about designing extremely highly interactive, impressive space by infusing messages that need to be delivered on the spot through the use of various techniques to enable articulation of ideas and offer thrilling and exciting experiences. Our activities as a group of creators focus on producing vibrant interactive space ranging from basic show windows & displays to exhibitions, showrooms, promotions, cultural, business and entertainment space, as well as architectural structures, cities, and landscapes.
The Japan Design Space Association (DSA), in our official capacity as an incorporated association, is committed to pursuing public-interest activities that can contribute to economy, industry, society and culture through enhancing design technique advancements, organizing design awards, and facilitating symposiums, international exchanges, studies, publication and other promotional and educational activities.
Our Field



Exhibition space


Japan Industry Pavilion, Expo 2010, Shanghai china



Promotional space


Konami booth, Tokyo Game Show 2009



Cultural/City Planning


Intermediatheque in JP Tower operated by Japan Post and UMUT



Business/service space


LOUNGE by Francfranc



Show window space


"Rouge", House of Shiseido, Ginza



Visual design spac


e 9h Exhibition



Entertainment space


"Rooad Show", Singer Yumi Matsutoya Concert Tour2011



Creative art space


"Shining spring after clearing fog"
History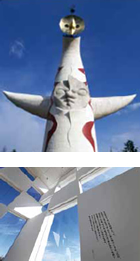 The Japan Design Space Association, consisting of five branches over three regions, is a nationwide organization approved by the Japanese Government for the spatial design sector. The predecessor of DSA was the Japan Display Design Association formed in 1974 through a merger between two display design organizations – one established in Osaka in 1959 and the other in Tokyo in 1963 as voluntary associations for display designs – and was approved as an incorporated association by the government in 1993.
DDA played an important role in unfolding the social potential of display designs through the 1970 World Exposition in Osaka, Japan. Supported by the high economic growth and transformation of the environment surrounding Japanese economy and the association, display designs expanded their areas of activity and began taking root as a communication technique essential to communities and people's livelihood. With its activity overflowing the definition of "display" along with diversification of media and progresses in information and communication technology, the association changed its name to the current DSA to represent ongoing activities marking its transformation into a general incorporated association in February 2012.
Activity

Members of the association participate in numerous domestic and oversea expositions, exhibitions, as well as museum, business space, and entertainment space projects, unleashing their expertise. DSA's activities as an association are focused on three pillars of "Commendation/Contests", "Lectures/Seminars/Cultivation", and "Dissemination/Education". In "Commendation/Contests", we contribute to identifying talented designers and improving their design activities by organizing awards for recognition and publication of excellent works of spatial/environmental design. In "Lectures/ Seminars/Cultivation", in addition to sponsoring design meetings, symposiums and seminars, we promote activities to nurture young people, send dispatch instructors to college courses and judges to external design projects. In "Dissemination/Education", we cooperate with publication of the Japanese Spatial Design Yearbook, publish books on spatial designs, as well as edit and plan membership public relations magazines and branch-based online newsletters. The association is also actively engaged in establishing intellectual property rights, planning and research of design protection, and interaction with other design organizations (the Council of the Design Association of Japan a.k.a. D-8, Kukan Design Organization, etc), public offices, government-affiliated organizations and related industries.